I want people being convinced by my tastes, maybe that's my vanity.

photography by Roland James
The Pace Gallery founder, Arne Glimcher, has a fascinating career which spans over 56 years. He has been responsible for nurturing the career of many world renowned artists. Today, Pace Gallery, is at the top of the international art world and has offices in New York, London, Los Angeles and Beijing. Arne himself is an incredible figure; not only is he known as one of the world's legendary art dealers, but he is also a film director, producer, writer and philosopher. Arne worked in Hollywood in the 80s and 90s and had produced eight films.
Picasso and the Single Girl met up with Arne Glimcher during Fiac Week in Paris, and discussed his views on the new global narrative of art, his philosophy on art and commerce, and also, rather humorously, his take on the meaning of "ambition", "vanity" and "success."
P=Picasso and the Single Girl
A=Arne Glimcher
On the New Global Narrative and World Art
"I hope the Chinese government will know that Chinese art can be a great ambassador to the world and to show the achievement of Chinese art." -Arne Glimcher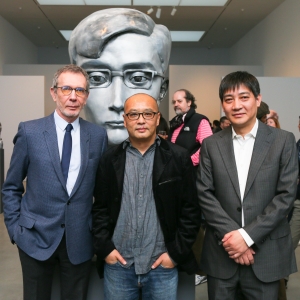 P: You have discussed "Chinese narrative" in your previous interviews.  China has changed dramatically over the years – do you think there's a new "Chinese narrative" NOW as compared with China then (after Deng's open-door policy and Cynical Realism in the 90s)?
For instance, Chinese diaspora artists are now in a different state than the diaspora artists in the 1980s,. The young generation of Chinese artists like the young generation of Chinese people in different walks of life. They are becoming global citizens and they speak universal language like their Western counterparts.
You see "the American thing", "the German thing" and "the British thing" all seems over, do you think the new narrative is a global narrative?
A: It takes more than one generation to develop art. We know first generation contemporary Chinese art as Cynical Realism, and those artists are more historical figures now. What we begin now in China is very interesting installation art, photography and abstraction. China is one of the two greatest powers in the world. It's impossible to think there's no great art in China. China must be one of the greatest places to make great art in the future. I was in Shanghai and saw Song Dong's installations- theywere incredible. I think it's not Chinese art, it's world art. We no longer have New York art or German art; what we have now it's a new world map and we have global art.
With new ideas developing in the country, China will be really important in the future. But I think to some degree, with the support of government it will be good. When World War Two ended, the Museum of Modern Art in New York organized an Abstract Expressionism art exhibition and they sent that exhibition all over Europe, to all the countries that were destroyed by the war. It changed the art world. The US government know that art is an important ambassador to the world. I hope the Chinese government will know that Chinese art can be a great ambassador to the world and to showcase the achievement of Chinese art.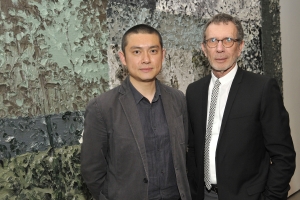 P: Funnily the Chinese government does have the initiative to support art programmes, but we see more major Western artists showing in China rather than exhibitions on Chinese artists. You see there are also lots of private museums booming up in China and they are eager to follow the Western tastes.
A: I think it's very important for the states to sanction that;to have a national museum in Beijing and to support contemporary Chinese artists. To acknowledge how important art is to humanity. I have great faith in China. I think China is the future.
On Identity 
"You cannot always hold on to your ancient identity to live in the modern world. It's a compromise." -Arne Glimcher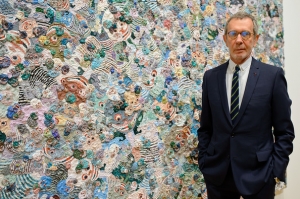 P: Some Chinese artists do hold on to their identity, then they failon the global stage. I think holding on to one's identity is a reason for one to remain a peripheral status.
A: Yes. You cannot always hold on to your ancient identity and to live in the modern world. It's a compromise. When you see the Abstract Expressionism exhibition at Royal Academy of Arts in London, you realise that whilst it's international art style, it's also very American. You can always have an international art style in China that still speaks of China.
On Movie and Art
"How do we process information in our head?" … that asks a very provocative question."-Arne Glimcher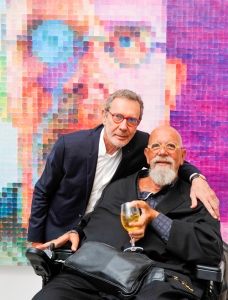 P: Arne, you are also known as a movie producer. You once called yourself a "narrator". Art and movies, I think, speak universal languages, but in different ways. They both evoke emotions in human and transcend borders; but to some extent, I think the expressions in art can be more universal than movies.
For example, when a Hollywood movie enters into a new market, it often has to be modified to suits the local tastes, or to be adapted to fits the cultural proximity, whereas the creation of art works doesn't need to have such concern and boundaries. Artists have voices on global stages, but we still don't see minorities playing main roles in western movies. What is "universal" and "international"? Humanity is universal, the art world-it's also a truly international industry. Have you ever thought about making another movie about the art world? If so, what would be the narrative?
A: I think the expression in art can be very universal. It's a one to one experience, movies as well. But art can be more powerful experience than movies, because you only need yourself and the work of art. Art change the way we see, it's about how we process information. "How do we process information in our head?" … that asks a very proactive question.
I have done some TV and movies. I did one Chuck Close but I finish with the movies. Right now, I am writing my memoir. I had a wonderful 56 years in my gallery. My great relationship with China and my artists will be in it too. I have no reason to retire.
On Art and Commerce 
"My Philosophy is different to Andy Warhol's. I want a life with art. Money has nothing to do with art."-Arne Glimcher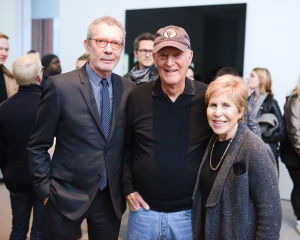 P: In your previous interviews, you insist art has nothing to do with money. I think today we are living in an age that we cannot dismiss the market and demand.Do you think your philosophy still stands? You said "The most wonderful time to be in the art world was in the sixties, because it wasn't a business-there was no business of doing art." But in the 60th, Andy Warhol said, "Making money is art and working is art and good business is the best art." Do you have any fascinating stories to tell between Warhol and you? Would you guys be friends or foul?
A: Let me tell you an interesting story. My philosophy is different than Andy Warhol's. In the 1980s, I sold Jasper Johns' "Three Flags" to Whitney Museum for 1 million dollars. It was the highest ever paid for a living artist at that time. Jasper wrote me a letter. He said "In my generation, 1 million is a large sum of money, but let's not forget about it, it has nothing to do with art!"
Unfortunately today, when someone looks at a painting, they see dollars not art. That's very destructive to art, also to the making of art. Artists are very finely tuned instruments. They are aware of everything in the world and money is part of the world. I spoke to Adrian Ghenie the other day. He said one of his paintings was sold for 9 million dollars. That 9 million dollar has nothing to do with Adrian's art. What worried Adrian was when those two people looking at the painting, they are not seeing the painting but they see money. But there are always people who are looking to the right thing.
P: There are lots of mechanisms behind the making of that 9 million dollars; promoters andsome critics are even getting paid for writing about art.
A: For 56 years in business, I never ask for money. I wouldn't. That's not fair for my artist.
P: Your approach is different from Larry Gagosian's in doing business.
A: I am of a different generation. When I opened my gallery, nobody thought they would getting rich by being an art dealer. I want a life with art. For the first 20 years, it was very hard. I lived and I had a good life. Many young people think they can get rich by being an art dealer. I would rather spend my weekend and dinner with artists not bankers. If you are honest, you can get what you want, no compromises. I showed Agnes Martin for many years and I sold nothing. I spent 40 years showing Agnes Martin. For the first 25 years it was very hard, but I still gave her a show every other year. I believe in my heart. I found that what is missing today in a lot of art dealers is that they look in how fast they can raise the price and how they can manipulate an auction. Auction prices are manipulated, manipulated by a lot of dealers who has great holdings in one single artist. I think that only works for a little while. I think Warhol is a great artist, but I think the Warhol market in particular is overheated.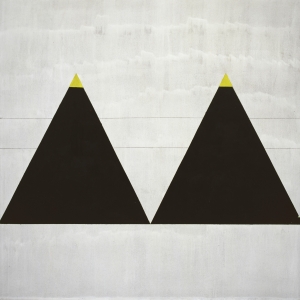 P: Also greed, people want the best thing.
A: I think you are right. But I think the whole thing is wrong. I have to communicate with artists myself. Nowadays people buy art on iPhones.
P: For some emerging artists, it's a good way to promote. Lots of young artist have been discovered on Instagram.
A: My life is different. My son is in the gallery now. He runs the gallery as much as I do; maybe more. I said I work for Marc now. Art is just as important as science. This is what makes us human. This is what makes us recognize beauty, kindness, humanity, what makes us people.
P: What are your principles?
A: My basic response to art is here (touched his stomach). Art in itself is a language, a language without word. I respond visually first, then I think about it philosophically. And logically.
P: What is your business value?
A: I choose my artists. It takes a long time. It doesn't happen in one day. My generation knows how to be patient. If nobody buys Agnes Martin, it tells me they cannot see yet. But they will. I am with Rothko for 40 years, people didn't know who Rothko was. You believe, then you have success.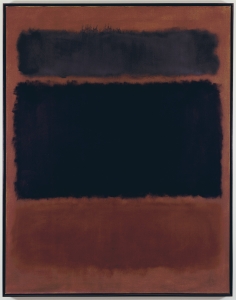 On "Ambition", "Success" and "Vanity"
"I want people being convinced by my tastes, maybe that's my vanity."-Arne Glimcher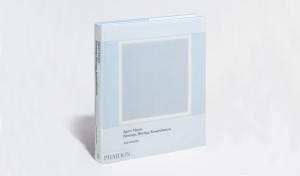 P: What are your definitions for these terms? "Ambition".
A: I want people to see what I see. And if they do, then I think I have success. That's my success.
P: But for a lot of artists you represent, for so many years, people didn't see what you see.
A: So I work harder. My work is slow.
P: How do you validate people see what you see?
A: Validation. People buy the work, the demand for the work is great. But I would still feel the same way with Agnes Martin. Too many years with my artists that I don't sell them. Now it's easy to look at my gallery, but in my mind, my gallery is still my first gallery in Boston. You cannot change your origin, you can expand your horizon, but you could never really change. I want people being convinced by my tastes, maybe that's my vanity.
-PICASSO AND THE SINGLE GIRL, NOVEMBER 2016