Sun screen, check. Sandals, check. Bikini, check. Ready to escape the winter freeze of the North and get exposed to the glitzy air of Art Basel on Miami Beach!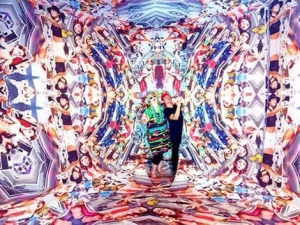 To some, there's always beach first, and bitch comes-and they take precedence as you prepare to immerse yourself in the colourful, action packed strokes splashed on abstract expressionist canvases. Don't be distracted by the sunny beaches and sexy bitches and all that glitters and happens this week on the Florida coast!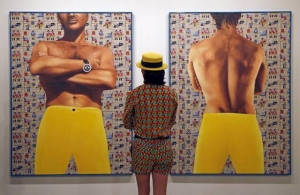 The geography of Miami draws collectors to the southern atmosphere, and the international art crowd who would not miss the party, but serious art world insiders have said, 'If I could skip Miami, I would'. The emerging artists who can't refuse the chance at exhibiting at one of the satellite fairs and the Latin American dealers highlighting the main event have brought the heat to Miami.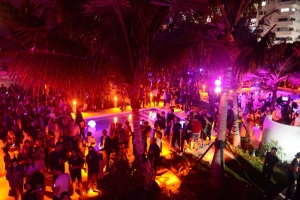 Once a year in December Florida's sun shines light on the ones who frequent art world events, alluding to those who believe in, 'fake it 'til you make it'; those who've sprayed on their fake tans and brought themselves to the show. This week you will have Latin American Art, Latin American collectors, and also Latin American temperament!

Londoners, forget about the monochrome or the Antwerp school when you want to dress to impress at Art Basel Miami Beach, here at the fair you'll find more 'Versace on the floor'.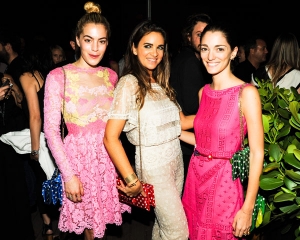 'F****, cellulite showing off art season!'I took off the hi-tech magic body contouring machine I bought in Hong Kong and zipped my luggage for Miami, and wished last minute a massage could help to shake off some 'mozzarella-ish' fluffy bits on my belly before flying to Miami.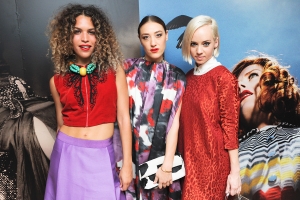 Two days ago, I stopped in Hong Kong for a single night on my way back to London and caught the preview of Christie's Asian Contemporary Art sales. I met up with Jonny, a junior specialist at the Asian Department of a Canadian Auction House. The auction house? Confidential. I met Jonny a few years ago when we both were studying Art History in London. He was in Hong Kong for work, on tour with him, a splendid collection of Jade and Chinese Ceramics of a key collector from Canada for public viewing. The next stop he said, the beach; yes, Miami Beach. The collection accompanying him to show at a hotel in South Beach before these treasures go on sale next May during Asian Art Week in London.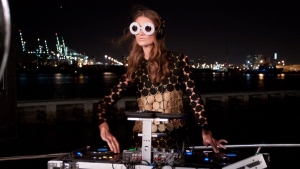 Jonny comes across as non-harmful bitchy and tenderly arrogant. His temperament would never hurt, but easily makes people fall for the illusion that if they don't get the humor in his bitchiness, they don't belong to his circle – i.e. the international jetsetters and spoiled rich; which they should only blame themselves for not being part of it.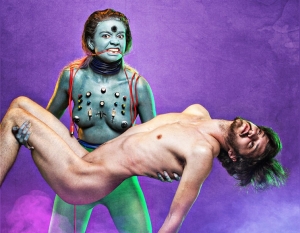 Jonny's dad is a big Chinese art collector, so his career started early and so far, so smooth. It seems very perfect, but he has two weakness you shall never poke:
He always sweats like hell in warm climates. He's adjusted to this by always carrying a beautiful hand-crafted fan in oriental design. In fact, he has a whole collection and is already envisioning the day when he will auction them… if he ever become a big player himself in the art field.
He's heavy set and cannot manage to lose weight, despite his efforts. These two factors combined make him look like a pre-weight loss Karl Lagerfeld. He usually ties his hair back in a knot, dresses very flamboyant and loves all accessories in jade; making him an Asian version of Karl.

Karl before losing weight

'He needs a Choupette' (Karl Lagerfeld's cat), I think every time I see him.

Karl and Choupette
Jonny's yearly routine when he arrives in his hotel in Miami – drop his luggage in the lobby, bring out his notebook with a list of names, add said names in his newly created WhatsApp Chat group named 'Glitzy Bitches.' The names? Art world girls he would like to bring to the parties. 'Bitches, let's go party!', he types.
By the time his 'selected' bitches check into their hotels, Karl, oh no, Jonny has already rushed back from the Webster, shopping bags full with designers' resort collection shirts and loafers.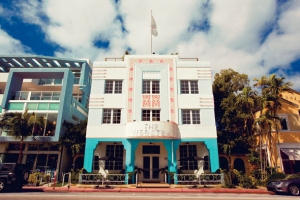 The 'Glitzy Bitches' having already received a custom PDF compiling all the events happening during the art week in Miami.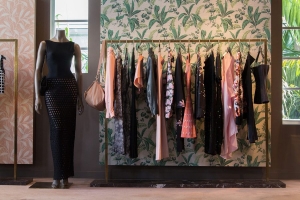 Jonny calls these girls, 'Jonny's Angels' – unlike Victoria Secret or Charlie's. 'They may not have abs or peachy bums, but they rock with their knowledge and brains. At the end of the day, knowledge is power!', he said. 'You can always buy the Victoria Secret bras to push up your boobs and make a cleavage! But it's a hell lot harder to buy anything to push up your intellects. When you have gap in your knowledge you can catch up, but gradually it forms your intellect and your horizon. When you find a gap there, It's there!' saying with contempt as he waves his oriental fan.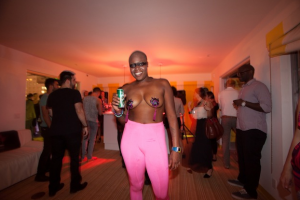 'Babe, you are a newbie with intellects, I will add you to my Glitzy Bitches chat group,' Jonny said to me when while smoking shisha in Hong Kong two days ago and promised he'd take me to parties in Miami. 'Just give me a shout when you arrive your hotel', he said.
Oh well, I know this week is going to be intense, and hot. I might see Jonny swear and sweat, more importantly, what happens in Miami will not stay in Miami, people talk and rumors spread. But I know Jonny will put up a good show and I know the parties will be good. See what happens.